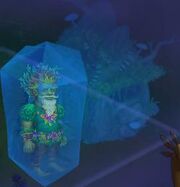 How to Obtain: Obtained at level 27 by freeing him from the Mossback Swamp for 12,000 coins.
He must be rescued to explore Mossback Swamp.
Description: "Bayoo brings special luck at Butterfly Oracle and the Elemental Nexus."
Extra item: Clay -- Found at:
Good (

or bad

) at these Special Items
Place of Legend
Special Item
Percentage
Normal Percentage
Well of Wishes
Stardust
60
30
Dragon Ruin
Emerald
33
10
Dragon's Clutch
Silver Wire
55
28
Friendship Arena
Iridescent Scale
32
12
Fairy Falls
Everlasting Bubbles
40
10
Butterfly Oracle
Enchanted Amber
22
4
Flower Tower
Spellbound Orchid
25
12
Elemental Nexus
Mandrake Root
10
1
Frost Owl Spire
Star Sapphire
12
7
Crystal Henge
Prismatic Lily
(

5

)
30
Ad blocker interference detected!
Wikia is a free-to-use site that makes money from advertising. We have a modified experience for viewers using ad blockers

Wikia is not accessible if you've made further modifications. Remove the custom ad blocker rule(s) and the page will load as expected.