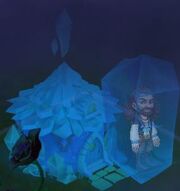 How to Obtain: Obtained at level 42 by freeing him for 200 000 coins. To access him, the player must first unlock Flower Fairy Realm to clear a path.
He must be rescued to unlock Crystal Realm.
Description: "Konley brings special luck at the Crystal Henge and the Crystal Citadel."
Extra item: Sand -- Found at:
Good (

or bad

) at these Special Items
Place of Legend
Special Item
Percentage
Normal Percentage
Crystal Henge
Prismatic Lily
(

10

)
30
Crystal Citadel
Diamond
15
6
Ad blocker interference detected!
Wikia is a free-to-use site that makes money from advertising. We have a modified experience for viewers using ad blockers

Wikia is not accessible if you've made further modifications. Remove the custom ad blocker rule(s) and the page will load as expected.