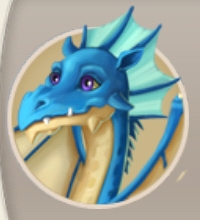 Rill is a water dragon.
Available at level 25
How to Obtain: This dragon can be bought for 14 white pearls, 4 black pearls and 4 gold pearls.
Description: "Rill brings special luck at the Pirate Wreck, the Elemental Nexus, the Kraken Cave, the Yeti Cave and the Frost Owl Spire."
Extra item: Midas Glove -- Found at:
Good (

or bad

) at these Special Items

| Place of Legend | Special Item | Percentage | Normal Percentage |
| --- | --- | --- | --- |
| Gateway of Luck | Midas Glove | 100 | 20 |
| Dragon's Clutch | Silver Wire | 73 | 28 |
| Fairy Falls | Everlasting Bubbles | 20 | 10 |
| Butterfly Oracle | Enchanted Amber | 12 | 4 |
| Flower Tower | Spellbound Orchid | 20 | 12 |
| Swamp Totem | Mandrake Root | 25 | 15 |
| Elemental Nexus | Spirit Mushroom | 25 | 7 |
| Kraken Cave | Kraken Fang | 22 | 5 |
| Pirate Wreck | Ruby | 33 | 6 |
| Frost Owl Spire | Star Sapphire | 27 | 7 |
| Yeti Cave | Frozen Rune | 25 | 5 |
| Crystal Citadel | Diamond | 15 | 6 |